The old fashioned way: edit maps with graphics program
If you have ever created a sketch based on google maps, you know this procedure: Call up map, create screen shot, import into graphics program and then edit with it and finally save as JPG. This works, but brings many problems with it:
time consuming

not very comfortable

no updating of the map material

Modification of the sketch is not possible

no determination of areas, circumcircles or lengths

Sharing of maps only possible as file

common changing of maps by colleagues, customers or friends is rather difficult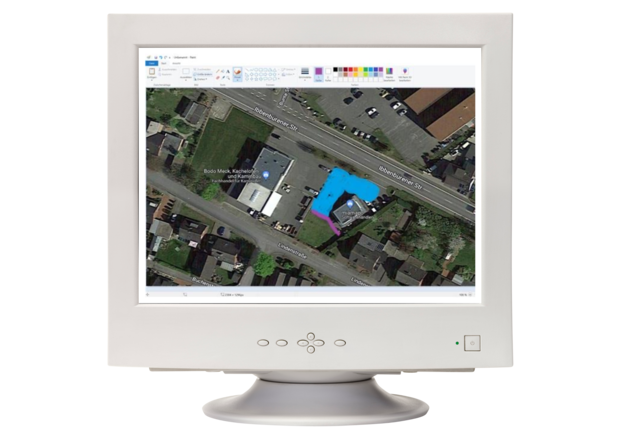 The miamapo way: create and share maps online
With the comfortable map editor you can create sketches based on Google Maps in no time. Numerous tools and functions are available in the editor for this purpose.
miamapo helps you to determine dimensions (areas, perimeters, lengths). The map material is always up to date and via link you can invite customers, colleagues or friends to work with you on the map or just share the map for display.
No software is required, the map editor works in any browser. Your maps are stored in the cloud and can be accessed from anywhere.
miamapo helps you to digitize your maps and saves a lot of time and money. Maps can be easily shared with others via link.
There are numerous application examples
Here is a small excerpt:
Operation plans for green maintenance
lawns, paved areas, hedges, flower beds
Operation plans for winter service
areas for large equipment, small equipment and hand cleaning
area, outline, length, cubic meters for lawns, parking lots, hedges, flower beds, edging stones, excavated soil
Planning of construction site equipment
cranes, toilets, building material storage, mixing machines, construction site silos, scaffolding, container storage areas
No-parking zones, parking spaces, one-way streets, no-entry zones, diversions, prescribed direction of travel
Storage areas and building material logistics
storage of excavated soil, construction roads, unloading points, storage points
Automower / robotic lawnmower installations
Lawns, paved areas, hedges, flower beds
Work and operation orders
map sketches as annex to the order
construction sites, new construction areas, events
Planning of manhole works
laying of sewage pipes, drainage, cables
Parking spaces, parking lots, reception, swimming area, sanitary facilities, sports area, dining area, fishing area, playgrounds, power connections, water supply points
stage planning, access routes, escape routes, tent sites, parking areas, toilets, catering, merchandising, sales stands, beverage and food, escape plans
cable routes, pipelines, laying plans
Irrigation system planning
Lawns, paved areas, hedges, flower beds