Creating map sketches with miamapo becomes a piece of cake. If you want to learn more about the idea behind miamapo, click here.
With the comfortable map editor you can create sketches based on google maps in no time. Miamapo helps you to calculate masses (areas, perimeters, lengths). The map material is always up to date and via link you can invite customers, colleagues or friends to work with you on the map or just share the map for display.
Surely creating sketches using screenshots and Google Maps is also a way that works. This method is obviously problematic:
not very comfortable

no updating of the map material

Changing the sketch is difficult

no determination of areas, circumcircles or lengths

Sharing of maps only possible as a file

Sharing maps with colleagues, customers or friends is quite difficult
With miamapo, creating sketches on maps is more than easy. The map material is always up-to-date and can be shared with friends, colleagues or customers at the push of a button. Convince yourself of the many advantages of miamapo.
You can log back into your miamapo account at any time and continue editing your map sketch. miamapo saves the current state of your map in the cloud.
Any map or sketch can be shared with your friends, colleagues or clients with one click. Anyone with a link to your map has read-only access and can see legends, layers and interactive map elements.
So that you can also use your maps in other applications, we offer you numerous export formats:
PDF (DIN A1-A6)

SVG

JPG

PNG

JSON
Please ask your software vendor about this. Maybe he does not know miamapo yet and is grateful for your tip. Miamapo is designed in a way that it can be integrated into any software. No matter if it is a cloud application or a conventional PC or MAC application.
Your data is stored on a server in a secure data center in Germany. Everything is subject to the strict regulations of the DSGVO. Permanent data backups and mirroring of data at different locations ensure further security. All data is transferred in encrypted form - including your passwords and access data. Yes, your data is safe with miamapo.
At miamapo there are no contract periods and therefore no automatic contract extensions. You can cancel miamapo at any time.
You can use the FREE version of miamapo free of charge.
In this version you can create and save 10 maps. We also offer you a free 30-day test period.
If you would like to use miamapo with several users at the same time or create more maps, you can switch to a chargeable tariff. You can find an overview of our tariffs here.
Yes. You can either delete your cards directly or archive them first. If you delete the cards, they cannot be restored.
Cards that you do not want to delete yet, but no longer need, can be archived and deleted later.
The application areas of miamapo are diverse: from sketches for green maintenance or winter services to construction site logistics to deployment plans or festival planning. Miamapo helps to digitize maps in numerous industries. Thereby you save a lot of time and money. Here is an excerpt of the industries in which miamapo is used:
Winter service

Green maintenance/object maintenance

structural engineering

civil engineering

Gardening & landscaping companies

Electricity supplier

Gas supplier

Telecommunication

Cable laying

Earthworks

Facility management

Janitor service

Container service

Construction Site Management

Event management

Architects

Planning of sprinkler systems

Planning robotic mower
If your industry is not listed, please contact us!
You don't need to install any software to use miamapo. miamapo works in any internet browser on your computer, smartphone or tablet. Your maps are stored in the cloud.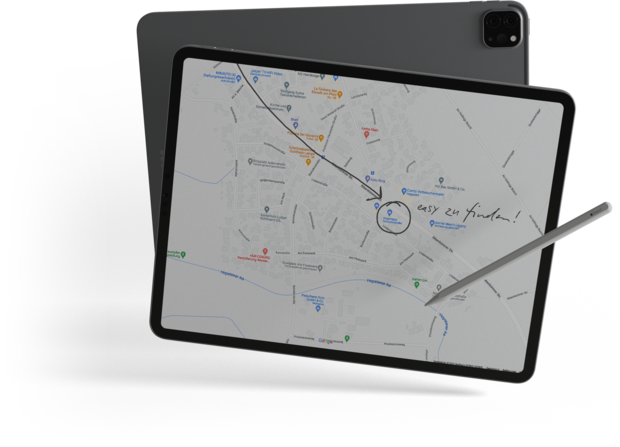 I can't find my question. What do I do now?
Just send us an email with your question and we will answer your question immediately.